We have a wiener.
29 year old Joey Chestnut finishes 69 hot dogs in 10 minutes in the annual Coney Island event. Not only has he won seven times in the Hot Dog Eating Contest, but he also beat his record from the previous contest. If we total up the six contests Chestnut has been in, he has eaten a total of 380 hot dogs and has digested more than 110,000 calories.
We find entertainment in watching men devour 20,000 calorie-worth of hot dogs in 10 minutes. Shouldn't we worry for them? Chestnut, 6 feet tall and weighs 210 pounds, had said his pace was uneven in the past, but "this year I'm trying to eat a little more gracefully, conserve my energy."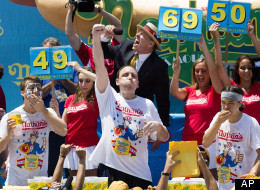 Are these eating contests healthy for us? Like every other sport, competitors risk their health and physical being. Our bodies can take only so much of anything. High consumption of anything is crucial to us. What we don't think about is how limited the human stomach can hold before it breaks. It was studied that competitive eaters' stomachs have become flexible because of nature, nurture, or some combination. There have been cases where people have stuffed more than five liters in their stomach. Our stomachs can only hold one or one-and-a-half liters of anything. Eating oneself to death can be very detrimental. Not only can it stretch one's stomach, but it can also destroy the body's reflexes. When one is to the point where they are unable to vomit, the consumption of food and/or fluid in the stomach will put pressure and weaken the tissue in the stomach. Any contents in the stomach will be sent into the body and create infections and pain.
Here is the full video of the contest.
[youtube]http://www.youtube.com/watch?v=rGBnNljfWSE[/youtube]